Meal Plan // October 27, 2021
Oct 25, 2021
It's Meal Plan Monday and I'm back with another plant-based menu and meal plan that you can batch cook ahead of time and adapt for your whole family whether they are vegan or not! This week's menu features Mexican and Italian cuisines, as well as a recipe that's an ode to one of my favorite seasonings: Everything Bagel.
Get a peek at the recipes and prep plan below before they drop in our membership library on Wednesday. With our done-for-you meal and prep plans, we aim to take the thinking out of dinner. Whether you're a member or not, you can use our plan preview as inspiration for what to plug into your meal plans. Use our free planner to get started on next week's meal plan today!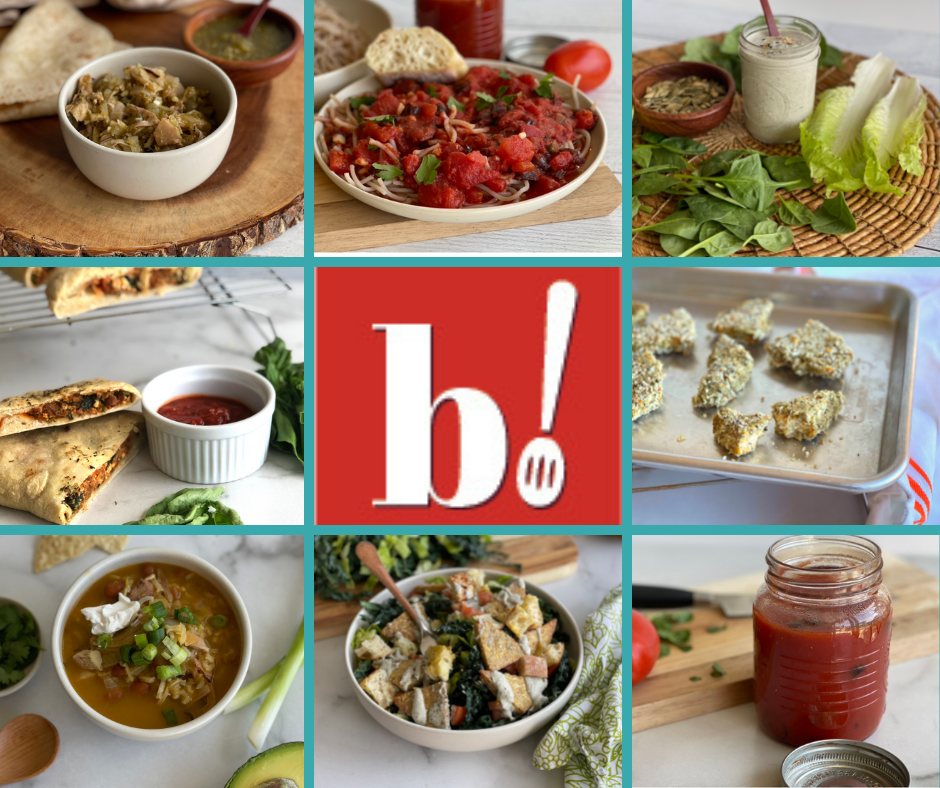 Plan Preview
Our members receive a new meal plan every Wednesday morning so they have time before the weekend to finalize what else they're cooking for the week, grocery shop, and meal prep by Sunday.
Here's a peek at next week's menu:
Jackfruit Verde Enchilada Soup
Pasta Puttanesca
Puttanesca Pizza Pockets
This Is Everything Tempeh & Kale Salad
The Jackfruit Verde Enchilada Soup is new to our recipe library this week and it's everything I'm craving right now on these cool Fall nights. Our Salsa Verde Jackfruit adds vibrant, tangy flavor to the chunky broth that also includes pinto beans, rice and green chiles.
I love a not so ordinary dinner salad and our This Is Everything Tempeh & Kale Salad turns everyone's favorite Everything Bagel seasoning into an unexpected main dish. Our Puttanesca Sauce is doing double time in two of our recipes this week: pasta and pizza pockets. (We love serving handhelds for dinner.)
As the only vegan in the house, I've included suggestions in the plan for all of these recipes to please non vegans so that you can close your "restaurant kitchen" and all eat the same meal each night.
Making it Happen
In addition to this done-for-you meal plan, we also include a step-by-step prep plan to speed up dinner during the week. If you're following our plan, here's what you can look forward to batch cooking on the weekend:
Everything Bagel Salad Dressing: New this week, this recipe turns the store-bought seasoning favorite into a creamy, luscious dressing that's just as delicious paired with crudite and crackers as it is drizzled on salads.
Salsa Verde Jackfruit: Salsa verde is one of my favorite jarred salsas (although our homemade version is even better), and I've used it in this recipe to make a zesty filling that we're using in our Jackfruit Verde Enchilada Soup that you can also batch ahead of time. Double the recipe and use it in tacos or burritos later in the week to get more bang for your batch.
Puttanesca Sauce: You can't go wrong with a homemade pasta sauce and this one is full of olives, capers and tomatoes that we're serving over pasta, and also in pizza pockets this week. It would also be delicious as a base for a pizza.
All of the recipes drop Wednesday morning. Not a member? Try us for $1 here.
Wishing you a delicious week!